We provide you with more then just a home inspection! Our home inspector can submit all appliance data to perform a RecallChek on every appliance in your new home, including the furnace and hot water tank.
---
Take advantage of RecallChek on your own appliances today. Click below, register, and fill in the model and serial numbers of all your appliances. Only $29.95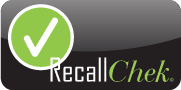 ---
---
This section is for Real Estate Agents only, if you wish to purchase a Recall Chek for your appliances please click the link above.
If you are an agent who has received an invite, please click the button to the right.